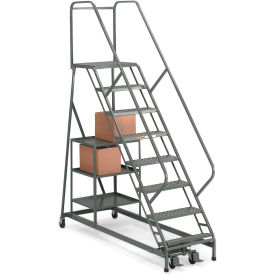 EGA Stock Picking Ladders
EGA Stock Picking Ladders Provide Workers With Ability to Select Items From Varying Inventories in Warehouses, Stock Areas And More.

EGA Stock Picking Ladders are made of steel to provide long lasting durability. Perforated steps provide grip and additional safety. Stock Picking Ladders available in 9 or 10 step quantities.Three levels of 23" x 25" shelves provide 12 sq. ft. of storage. Ezy-lock design plants ladder legs firmly to the floor when pressure is applied to the bottom step. Steps are 7" deep, top step is 21" deep for added versatality. Holds up to 450 lbs. Gray color finish.