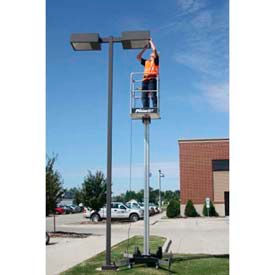 ReechCraft™ PowerLift™ Maintenance Lift
The Lightest mid-range Maintenance Lift on the market!

The ReechCraft™ PowerLift™ Maintenance Lift is perfect for locations with limited access, such as down stairways or in confined spaces. At only 278 lbs., one person can easily roll it to the jobsite on its integral 12" dia. flat-free wheels. Outriggers feature 5" non-marring swivel casters with swivel locks and brakes for easy positioning. It's a great lift in factories, warehouses, offices, homes and outdoors as well, as the stacking mast sections allow the PowerLift™ to be customized to any work height up to 20'. Mast sections are conveniently stowed alongside the platform basket. The PowerLift's™ only electrical component is a corded or cordless drill (not included) that is used for lifting power. It's very simple to operate and there are no expensive controls, sensors or switches to repair. The worm gear transmission features an integrated drive gear and brake. Fully enclosed personnel basket provides security and an anchor point for a safety harness is also provided. A hand crank system is provided for emergency lowering if there is a loss of power or the operator is incapacitated. Meets ANSI A92.3 safety standards.

Optional Hitch Hauler eliminates the need for a pickup truck or trailer to get the PowerLift™ to the jobsite. A 2" Type III receiver hitch is required. Unit can be loaded, unloaded and secured in less than 15 seconds with no ropes, chains or straps necessary. Does not interfere with the use of the pickup truck box or cargo area and weighs just 43 lbs.