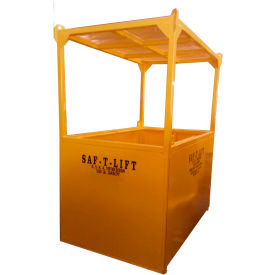 Saf-T-Lift Steel Personnel Baskets
Personnel Crane Baskets Are The Most Common Method Used To Transfer Passengers And Goods To Platforms

OSHA certified crane baskets for personnel hold a load capacity of 1250lbs. Constructed of all 14 guage steel with 2'' steel tubing, the self-latching inward-opening gate features long lasting hinges. Baskets feature diamond plated floors with drain holes and safety belt rail for fall arrest protection and stability, exterior upper for rigging, and lower lifting eyes for test weight (sold separately). Hi-Vis Yellow powder coat.

Test weight form is designed to accommodate complete fill with concrete; maximum 125% of 1250 lbs capacity for testing, or 1563 lbs. OSHA compliant. Made in the USA.