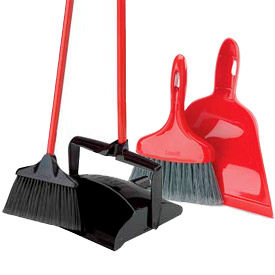 Dust Pan & Broom Combo
Dust Pan & Broom Combo Allows Convenient Floor Cleaning and Maintenance for Food Service, Hospitality, Household, and Other Related Applications.

The pan and broom combos are made of sturdy plastic for long lasting durability and strength. Thin front edges provide improved pickup and scooping. Available in a two styles for increased versatility. Handheld Dust Pan & Broom Combos are used for close quarters cleaning jobs and for difficult crevice work. Upright Dust Pans & Broom Combos can handle larger jobs and work extremely well on crevice free floors or on the jobsite. The long, upright handle reduces bending for consistent, comfortable use. Choose from open lid and closed lid models. Select models have a hole in the handle for easy hanging. Color coded for easy identification. Dimensions, bristle types and case quantities vary.