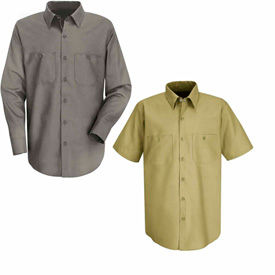 Red Kap® Cotton Work Shirts
Red Kap® Cotton Work Shirts With Long Or Short Sleeve.
Red Kap® Men's Cotton Work Shirts are made of cotton for comfort and durability. Two-piece, lined collar with no stays and six button front with button at neck provide style. Shirts feature two button-thru, hex-style pockets with bartacked pencil stall on left pocket. Separate two-piece yoke. Available styles, colors and sizes range vary by model.
Click for Measuring Guidelines and Charts