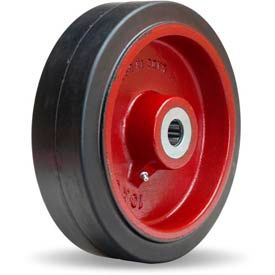 Hamilton® Rubber Wheels
Hamilton® Rubber Wheels provide Rugged, Long-Wearing Wheels that are widely used on Industrial Equipment.

Hamilton® Rubber Wheels provide a tough, yet soft ride on any surface including carpet, concrete, tile or wood. Rubber Wheels are bonded to metal or plastic cores for long lasting durability. Rubber wheels come with Ball, Delrin, Oilless, Plain, Roller or Tapered bearings for smooth tire rotation. Wheel capacities range from 120 - 3,020 lbs. Wheel diameters from 2-1/2 to 20 inches. Extra thick puncture-proof rubber wheels are also available to provide superior cushioning.