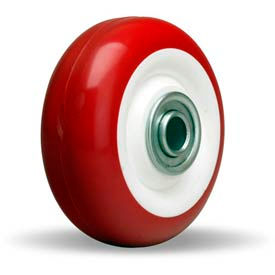 Hamilton® Polyurethane Wheels
Hamilton® Polyurethane Wheels are useful in areas where a Clean, Sanitary Design is necessary.

Hamilton® Polyurethane Wheels provide high load rating for superior performance. Polyurethane material resists grease, oil, cutting, chunking and abrasion to provide practical use in factories, garages and more. Wheel material is bonded to drop forged steel, aluminum or hard polypropylene center for long lasting durability. Smooth polyurethane tread will not damage floors. Available in a variety of types, materials and sizes. Capacities are 300 lbs. to 6500 lbs. Wheel diameters from 3-1/4" to 12". Bearing types are Ball, Delrin, Plain, Precision Ball, Roller, Stainless Steel Precision Ball and Tapered.