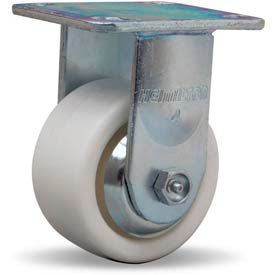 Hamilton® Thread Guard Casters
Hamilton® Thread Guard Casters are widely used in the Textile Industry to Reduce Injuries, Save Down Time and Decrease Product Loss.

Hamilton® Thread Guard Casters have a metal or plastic disc fixed in place between the spanner bushing and caster leg to prevent loose threads from being wound around the axle. Thread guard casters have a formed steel mounting plate and horn base with continuously welded legs for long lasting durability. Permanent rivet type kingpin holds swivel raceways in place. Lube-type axles have drilled spanner bushings for easy relubrication. Rigid and Swivel plate casters available with Metal, Plastic, Polyurethane or Rubber wheels. Capacities range from 500 lbs. to 900 lbs. Wheel diameters from 4" to 8".