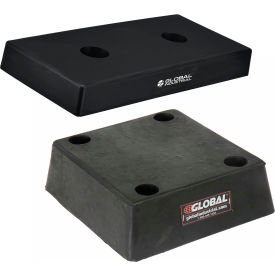 Specialty Molded Loading Dock Bumpers
Specialty Molded Loading Dock Bumpers Provide Impact Defense for Docking Stations.

specialty molded loading dock bumpers protect docks and approaching vessels from force impressions. Fiber reinforced prime rubber is layered in nylon and polyester to ensure resilient shape and strength. T-shaped molded bumpers are ideal for shielding custom dock formations. Pre-drilled mounting holes allow easy installation using 3/4" anchor bolts (hardware not included). Bumper types and specifications vary per model.