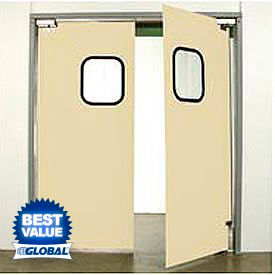 Light-Duty Impact Traffic Doors
Light Duty Impact Traffic Doors are used for Restaurants, Retail Stores, Factory Offices and more.

Light Duty Impact Traffic Doors open with minimal resistance and close gently. Doors are available in several sizes and colors, and are sold in Single Door or Double Door sets. Aleco Brand Doors are made with 1/4" ABS plastic and reinforced spine. Zinc-plated steel hardware for installation. 125° swing action in both directions. Chase Doors are made with an ABS plastic face and frame with a polymer honeycomb core. Stainless steel end capping for added edge protection. Hinge mechanism mounts to door jamb with offset cam and hardened rollers for minimal maintenance. High-visibility 14" x 16" acrylic window is set in a black vacuum-formed ABS frame.

Note: Frame not included.