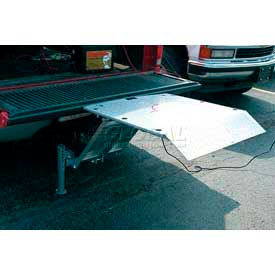 Battery Powered Pick-Up Truck Hitch Lift
Hitch Lifts Easily Attach To The Back Of Your Pick-Up Truck To Help Load And Unload Heavy Machinery And Equipment.

Heavy duty 12V DC motor raises and lowers loads and 2-stage outriggers offer added strength and stability. Hitch lifts feature built-in adjustable limiting device senses ground and truck tailgate levels. 2 receiver bar fits Class III or IV hitches and offers multiple pin positions for different tailgate depths. Service range is 4 ½ to 36 if hitch height is 18 . Durable powder coated steel frame. Steel tread plate surface has beveled edge for smooth loading and unloading. Hitch Mounted Cargo Lift includes 21'L power cable with battery connections and 6' remote control cord for safe lifting and lowering. Hitch mounted lift folds flush against tailgate when not in use.