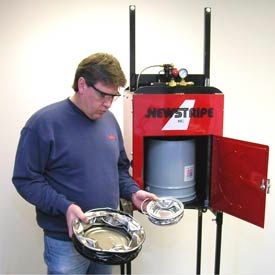 Newstripe Big Squeeze™ Pail & Can Crusher
Reduce Pail and Can Disposal Costs by up to 75%!

The Big Squeeze™ Pail and Can Crusher will crush 1 gallon cans in less than 30 seconds and 5 gallon pails in less than 1 minute. Pail Compactor is easy to install and operate; simply insert the can or pail, close the door and push the cycle button. Unit will automatically crush and retract for the next cycle, and the operation stops when the door is opened for safety. Accepts pails up to 15"H and 12" diameter, and can crush automotive oil filters up to 15"H and 9" diameter for added versatility. Crusher generates up to 13,000 pounds of compaction force @ 100 psi (air requirements 85 min. psi, 115 max. psi, 9 cfm @ 100 psi) using a three-bellow air piston. Integral safety regulator insures the operator is never exposed to potential hazards. Recessed area at the base includes an outlet and hose to drain liquid waste. All-welded structural steel construction and industrial grade components for years of service. 3 Year Limited Warranty.

Optional Floor Stand eliminates the need to have the pail crusher stored on a workbench, freeing up valuable bench space.