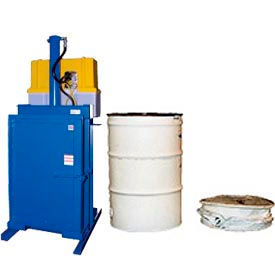 Hydraulic Drum Crusher
Hydraulic Drum Crusher will Crush 55 gallon Steel Drums to approximately 6"H and Resets Automatically in only 25 Seconds.

The Hydraulic Drum Crusher also includes a unique feature to compact products within the drum by removing the crushing plate. The 6.5 HP motor requires 460V 3-phase electrical hook-up. Dual-speed hydraulic pump with 18 gallon oil reservoir provides 38,000 lbs. of crushing power. Safety features include emergency stop button, pressure relief valve to prevent overload, and a door interlock system to prevent compacting when door is open. Drum head piercer allows drum venting. Offers fork pockets for easy transporting with a forklift.

Overall dimensions are 40"L x 36"W x 98"H. Drum crushing chamber is 25"W x 25"D x 37"H and accepts drums with a maximum height of 37". Designed for intermittent duty operation (40% duty cycle). Includes a 1 gallon Aluminum Drip Pan (31-1/2"L x 4-1/2"W x 1-5/8"H) that fits under the unit to catch drips from the crushing chamber. Meets OSHA and JIC standards and specifications.