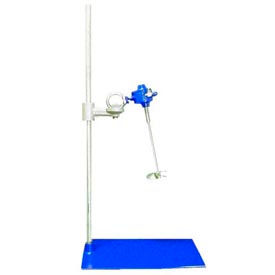 Grovhac Agitator Lab Units With Bases
Grovhac Agitator Lab Units with Bases are for use with Lab Stands and Open Top Containers of up to 5 Gallons.

Grovhac Agitator units are made with grade 316 stainless steel coupling, shaft and mixing impellers for lasting durability and light weight. Adjustable mounting bracket allows vertical positioning on the included stand. 3" propellers with 1/2"W shaft. Air Powered Motors feature a shaft measuring 12"L, and are available with 1/6 HP or 1/2 HP. Vari-Speed Motor operates at 1/6 HP with variable speed capabilities and features a 14"L shaft.