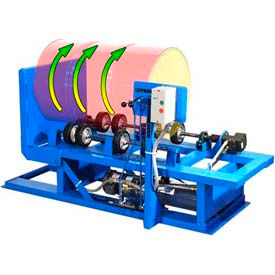 Morse® Hydra-Lift Drum Roller
Morse® Hydra-Lift Drum Roller Mixes Drum Contents Without Opening the Drum.

Now you can get the benefits of mixing inside Closed shipping Drums and have the machine do the work of loading and unloading itself! Mixing inside a Closed Drum helps eliminate spillage, contamination and splashing of dangerous contents on workers. Load your upright Drum into the Morse® Hydra-Lift Drum Roller. You control the hydraulic tilting action that places the Drum down on the rotator wheels, minimizing time, labor and the extra equipment of getting the Drum into the mixing position. Then, use a second valve to start and stop the hydraulic motor that drives the rotation. Remixes settled ingredients or integrates new components. Air Motor is powered by available shop air.