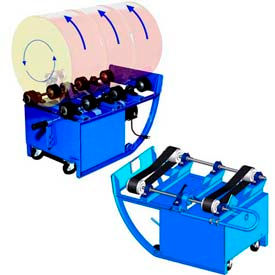 Morse® Portable Drum Rollers
Morse® Portable Drum Rollers Agitate Drum Contents Without Opening the Drum.

Morse® Portable Drum Rollers are constructed of steel with a powder coated finish for long lasting durability. Belted portable Drum Rollers are designed to roll fiber or steel Drums. Broad belts, instead of wheels, support the Drum. Compact, portable mixer and drum cradle rolls closed Drum to blend contents and eliminate sediment in the Drum bottom. Mixing in closed drums eliminates hazards, worker exposure, and messy cleanup associated with insertion mixers. Built-in tipping bar provides leverage to ease loading and unloading. Types are Belted Portable Drum Roller, Portable Drum Roller and Variable Speed Portable Drum Roller. Motor types are Air Motor, Electric and Explosion Proof.