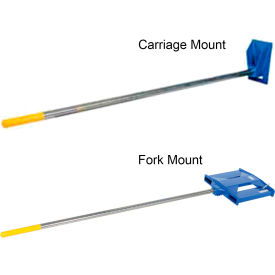 Forklift Rug Rams & Carpet Poles
Forklift Rug Rams & Carpet Poles Easily Transport Rolls of Carpeting and Rugs.

Forklift Rug Rams are made using a 2-3/4" diameter high strength steel pole that is painted blue and has a tapered tip. Carpet Poles are rotatable and replaceable.

Carriage Mounted Carpet Poles are available in Class II or III mounts and feature a spring loaded locking pin for secure installation.

Fork Mounted Carpet Poles feature 7-1/2"W x 2-1/2"H fork pockets on 24" centers. Includes safety restraint to secure unit to the forklift truck.