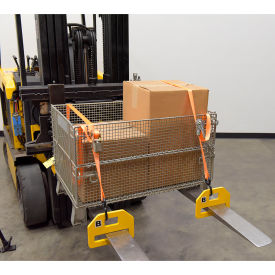 Forklift Tie-Down Clamps
Forklift Tie-Down Clamps Allow For Securable Transport Conditions of Loads Handled by Lift Trucks.

Forklift Tie-Down Clamps maintain steady position of loads being lifted by the tynes or forks of forklifts. Eye bracket is positioned in front of the load while the screw clamp is placed behind the unit, closest to the forklift driver. Available Types are Nylon strap or Chain to secure the load. Available Capacities are 4400 lbs. (2200 lbs. per Clamp Set) depending on the model. Dimensions and additional specifications vary per model.