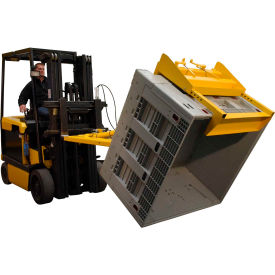 Truck Powered Crate Turner-Dumper
Truck Powered Crate Turner-Dumpers Are Designed to Enhance Forklift Capabilities and Functions In Warehouses, Loading Areas, and more.

Truck Powered Crate Turner-Dumpers are attachable to a fork lift or other lifting device to efficiently transport crates. Upper top lip fits tightly against the crate creating a secure connection during movement. Models are fully assembled and feature a weight capacity limit of 3000 lbs. Solid steel body design provides high level strength and dependability over consistent use. Painted finish adds a smooth surface to retain a smooth appearance following events of scrapes or abrasions.