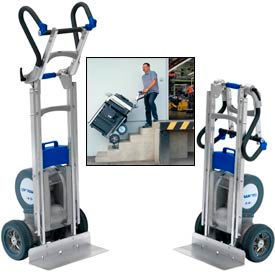 Wesco® Liftkar® HD Series Powered Stair Climbing Appliance Trucks
Wesco® Liftkar® HD Series Powered Stair Climbing Appliance Trucks provide Safer, Faster Material Handling on Stairs.
Wesco® Liftkar® HD Series Powered Stair Climbing Appliance Trucks reduce the force needed to move loads up and down indoor or outdoor stairs, decreasing the risk of back injuries and workers' compensation claims. Innovative edge-of-step braking system automatically applies brakes when the wheels are at the edge of the step, helping to prevent loss of load control caused by accidental rolling down the stairs. Brake system can be shut off for use on level ground. Powered truck offers
Continuous Climb
mode or
Single Step
mode that allows the operator to ascend or descend by pressing the button after each step for maximum control. Twin control buttons allow left or right hand operation and offer two climbing speeds (6 steps or 10 steps per minute). Quick-change 24 volt sealed maintenance-free battery pack and remote charger offer the following full-charge performance:
| | |
| --- | --- |
| Weight Lbs. | # of Steps |
| 725 | 120 |
| 550 | 190 |
| 440 | 220 |
Lightweight dual-rail aluminum frame and a 21"W x 7-½"D extruded aluminum noseplate are constructed for years of service. Ergonomically designed handles have non-slip rubber coating for maximum comfort. Safety cargo strap is included. Foam-filled 10-¼" wheels are puncture proof and are used for rough surfaces like gravel or cobblestone.
Folding Handle
truck's upper handle angle can be adjusted allowing the user to stand upright. Best for copiers, safes, heavy motors and other loads that would require the user to pull the load back to a very low position.
Optional Fold-Out Rear Wheel Carriage
converts easily into position to provide 4-wheel stability. Fits Standard Handle truck only (does not fit Folding Handle truck.)
Optional Snap-on Toe Plate
provides 21"W x 14"D of cargo space to allow moving loads without tilting the truck. Four 2" dual wheel swivel casters make this especially useful in confined areas. Fits both Standard and Folding Handle trucks.