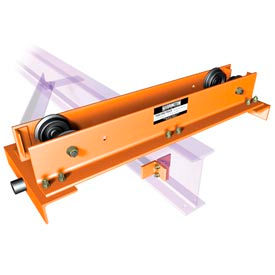 Harrington HPC500 Convertible Push End Trucks
Harrington HPC Convertible Push End Trucks Are Used For Assembly, Maintenance, Machining Or General Industrial Operations.

Convertible medium duty, push end design can be assembled for either top running or underhung cranes. Frames are fabricated from structural steel for optimal strength and rigidity. Wheels are cast iron and precision machined to roll smoothly on either flat or tapered flanges. Each wheel has a sealed deep groove ball bearing. All-bolted assembly for quick and easy installation with no welding required. Rail sweeps, drop stops and rubber bumpers are standard. Kits include two end trucks, rubber bumpers, bridge beam fastener set, trolley stops, beam fabrication instructions and assembly and installation guide.