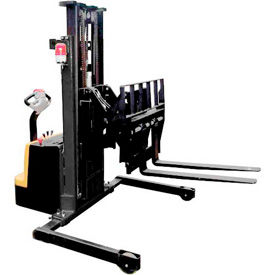 Fully Powered Reach Stacker
Fully Powered Reach Stacker Lifts, Lowers and Moves Loads in seconds.

Fully Powered Reach Stacker features powered 25" Fork Reach to assist with accessing pallets. Forks tilt forward 3° and backward 5°. Compact 63" turning radius for tight aisles. 2 KW lift motor raises loads 17 ft./min loaded and 27 ft./min. unloaded. Travels via 0.7 KW drive motor at 3.1 mph loaded and 3.7 mph unloaded. 42"L x 6"W forks offer a 24" load center. (2) 12V / 70AH batteries offer 8 hours service per charge. Includes integral 6 amp 120V battery charger and battery gauge. Ergonomic controls include fingertip raise/lower controls, infinite forward/reverse throttle, horn, safety belly reverse button and emergency disconnect. Safety switch on the mast reduces speed to 50% when the forks are raised to 12-½".

Forks Inside Adjustable Straddle Legs model is ideal for use with pallets. Straddle Legs are adjustable from 40" to 50" I.D. & 46" to 58" O.D. 1 Year Limited Warranty.

Note: 1500 Lb. Capacity for 0" to 62" Lift Height Range; 1000 Lb. Capacity for 63"H to Maximum Lift Height Range.