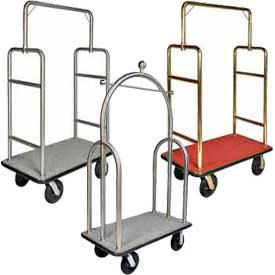 CSL Heavy Duty Bellman Luggage Carts
CSL Heavy Duty Bellman Luggage Carts Are Used For High End Hotels, Resorts, Condo Complexes And More.

Heavy Duty Bellman Luggage Carts are made of heavy duty stainless steel tubing for long lasting durability. Available with 4 wheels, two swivel/two rigid casters, pneumatic and semi pneumatic to provide advanced maneuverability and easy access to elevators. Available styles include Curved Uprights with Angel/Square/Trident/Angled Tops. Available color finishes are Stainless Steel or Titanium Gold. Durable Black, Gray or Red carpeting provides cushioning for suitcases and other items. Lengths range from 24" -46". Other dimensions vary.

Cart measurements vary. Carpeting complements any décor. 800 lb. capacity.