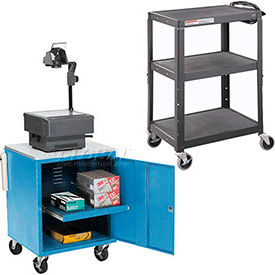 Steel Audio Visual Carts
Steel Audio Visual Carts Store and Transport Electronic, Audio Visual and other Valuable Equipment.

Steel Audio Visual Carts are solidly made for long lasting durability and dependability. Carts are used for use in the office, classroom, training room or meeting room. Selected features include sturdy wheels or casters for easy mobility, multiple adjustable shelves, non-slip vinyl mats, built-in power strips with convenient cord winders and more. Some models have lockable enclosures for secure storage of valuable equipment and are height adjustable. 120 to 500 lb. load capacity carts are available in 24 to 47-1/2 inch lengths, 18 to 32-1/2 inch widths, 34 to 54-3/8 inch heights and Black, Blue, Gray, Green, Ivory, Putty, Red and Yellow color finishes.