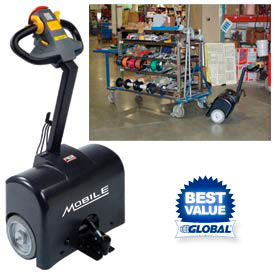 Mobile Industries Self-Propelled Electric Powered Tuggers
Electric Load Pullers Are Designed To Reduce Push/Pull Injuries And Increase Productivity.

Ergonomic power tugs pull a variety of single or multiple four-wheeled carts safely and efficiently with minimal effort. Battery operated pullers are used for healthcare, food service, hospitality and material handling applications. Motorized tow devices are powered by a 24V DC transaxle drive motor, and include two 22 amp/hr sealed lead acid batteries with integral battery charger and battery charge indicator. Mobile equipment tugs feature an ergonomic control handle which includes horn, key switch, lift button, throttle and speed control. Powered tugger rolls smoothly on non-marring, flat free tires. Rain-proof (IP-54 rating). 1 Year Limited Warranty.

Note: Hitch Ends and Hitch Receivers are sold separately.

Male Hitch End fastens easily to docking receptacle on the Tug.

To tow one cart, order one Male Hitch End and one Clamp-on Hitch Receiver.

To tow multiple carts, order Male and Female Hitch Ends and two Clamp-on Hitch Receivers per cart to be towed.

Clamp-on Hitch Receivers fasten to the base of most wheeled carts allowing you to attach the Hitches to your equipment.