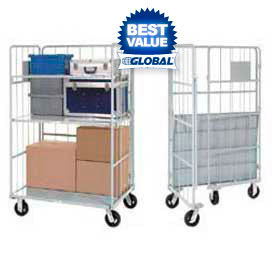 Nest Away Folding Steel Shelf Truck
Nest Away Folding Steel Shelf Truck Contracts Easily for Convenient.

Nest away folding steel shelf truck safeguards storage from unwanted access and minimizes space occupancy when not in use. Strong 16 gauge tubular steel frame folds and nests for space saving storage. 42" x 30" bottom shelf folds up and right side folds in forming an "L" shape for easy, compact storage. 6" x 2" mold-on rubber casters, 2 swivel, 2 rigid. Nesting cart is finished in durable gray enamel. Easy assembly.

Optional Hook-On Shelf is 42"W x 30"D, has a 1000 lb. capacity and hangs onto trucks welded cross members.

Note: A Maximum of 3 Optional Shelves can be used per Truck. Shelves can be placed in 3 Positions above the Lower Shelf: 14-1/4", 23-3/4" & 43-1/4".