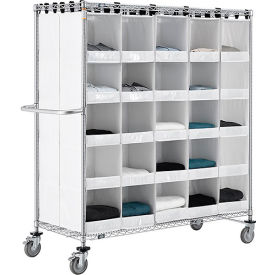 SpeedCartt™ Stock Pick Cart
Unex® SpeedCartt™ Stock Pick Cart

Mobilize Your Picking Process with a flexible, mobile solution for restocking, order fulfillment, seasonal demands, and more! Constructed from the same lightweight, yet heavy-duty materials as standard SpeedCell® storage solutions, our mobile SpeedCartt™ is designed for years of low-maintenance, demanding warehouse environment use. Mold, Flame & Static Resistant! Choose from single-side or back-to-back styles and Opening Qty in 15, 20, 25, 30, 40 and 50. Comes with 2 Swivel, 2 Swivel w/Brake Casters. Each unit has a 35 lb Capacity per cell and 240 lbs./Column Weight Capacity. 63"H.