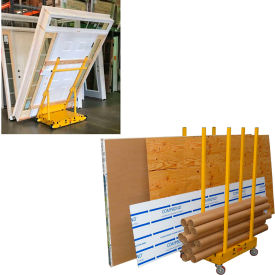 Saw Trax Panel Carts & Dollies
Saw Trax Panel Carts & Dollies Provide Ergonomic Material Handling and Transport For Multiple Applications Including Shipping, Storage, Installation, and more.

These carts and dollies are designed to reduce lifting stress, injuries, and workman's compensation claims while improving personnel safety and work efficiency. The locking casters offer ergonomic unit mobility, maneuverability, and accidental roll prevention. Metal construction provides strength, durability, and impact resistance in harsh working conditions. Low profile design allows easy material loading and unloading. Small footprint is ideal for indoor environments. Available types are All-Terrain Panel Dolly, Rack Safety Dolly, Safety Dolly, and Scoop Panel Dolly. Weight capacities are 700 and 1000 lbs. Dimensions vary per model.