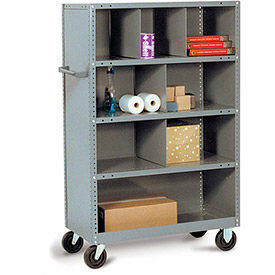 Steel Shelf Trucks with Shelf Bin Dividers
Steel Shelf Trucks with Shelf Bin Dividers
These Steel Shelf Trucks with Bin Dividers come complete with 2-side panels and a back panel. Bin Dividers are 12" high for easy separation of products or parts during transport. Multiple sizes can be contoured to any need. Additional dividers available upon request.
Tubular steel handle for easy maneuvering
5" Casters glide easily in indoor environments
Great for storing, staging, or transport!