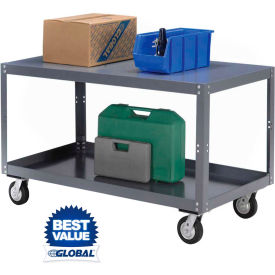 Portable Steel Tables
Portable Steel Tables Are Used For A Wide Variety Of Commercial And Industrial Merchandise And Tool Transport Applications.

Portable Steel Tables are made of heavy duty 12 or 14 gauge steel construction for long lasting strength, durability and dependability. Jamco, Modern Equipment (MECO) and Global Equipment brands offer a wide selection of All-Welded, Assembled or Unassembled type mobile tables designed with sturdy angled steel posts and 5, 6 or 8 inch diameter Plastic, Pneumatic, Polyolefin, Polyurethane or Rubber wheels for easy maneuverability and transport of products or tools. 1, 2 or 3 shelf tables with easy loading flush tops and 800, 1200, 1400 and 3000 lb. load capacities are available in 32, 36, 48, 60 and 72 inch lengths, 24, 30 and 36 inch widths.