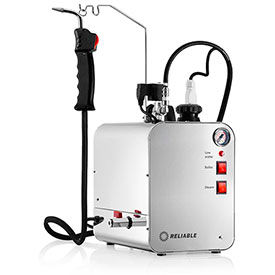 Dental Steam Cleaners
Dental Steam Cleaners Clean Away Leftover Wax, Plaster Waste, and other Dental Debris in Dental Labs or Offices.

Dental Steam Cleaners produce steam pressure for cleaning debris and polishing final product. Capacity in liters are 2.5, 4.3, 4.5, 5, and 9. Stainless steel tank, outer casing, and 12-gauge heavy-duty wiring with copper heating element provide optimum performance and lasting durability. Steam cleaners available in 5000CD Cleaner, 6000CD Cleaner, 7000CD Cleaner, 7500CD Two Solenoid Cleaner, 8000CD Automatic Cleaner, and 9000CD Automatic Cleaner. Tanks use regular tap water and have a low water light indicator. Carrying handle provides ease of use. Voltage is 120V. Limited 1 year warranty; Lifetime Warranty for tank.