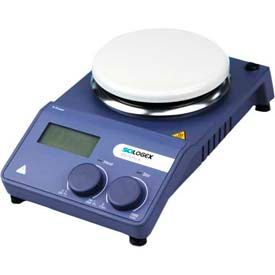 SCILOGEX Digital Hotplates / Stirrers
Digital Stirrers Are Used For Laboratories, Hospitals And Other Health Care Facilities.

Digital Stirrers have ab LCD backlit display for easy-to-read functionality. Functions include Heat only, Stir only or Heat and stir together. Stirring and heating functions can be saved in memory. Automatic spin bar retrieval and low temperature stability provide optimum performance. Electronic speed control provides even speed during changes in load. Maintenance free brushless motor provides long lasting durability. High magnetic adhesion. Free software for control & data logging by PC. Plate material is made of ABS, Stainless Steel, Ceramic Coated or Ceramic Glass. Accessory PT-1000 Sensor for medium temperature control available. Accessory reaction blocks for flasks and vessels available. Available models include Digital Stirrer, Digital Hotplate Stirrer, Circular Digital Stirrer, Plate Magnetic Stirrer and Hotplate Stirrer. cTUVus approved. CE Marked. 2 Year Warranty.