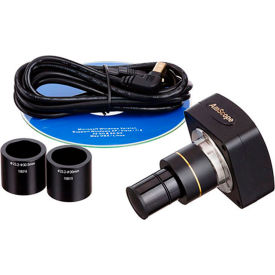 AmScope Accessories & Parts
AmScope Accessories and Parts Provide Optional Microscope Equipment for Applications Including Medical, Laboratory, Educational, and more.

AmScope accessories and parts are made of high quality materials for dependability. Adapters improve visibility for various microscopes including compound, stereo, and more. Units accommodate monoculars, binoculars, and trinoculars. Ring lights provide even and bright illumination for enhanced image clarity. Video camera captures microscope images for high definition live video display. Available types are Adapter, Bulb, Camera, Case, Cleaning Kit, Dust Cover, Eye-Guard, Eyepiece, and more. Styles and dimensions vary per model.