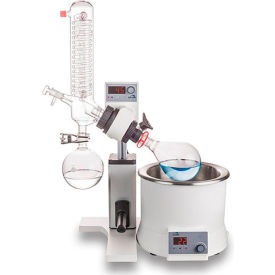 Scilogex Rotary Evaporators
Scilogex Rotary Evaporators Offers a Safe Extraction Process for Liquid Samples.

Scilogex rotary evaporators remove solvents from solutions through evaporation, heat, and pressure. Digital display of both rotation speed and heating temperature allows for optimal control of all distillation processes. Automatic motor lift releases the evaporating flask to a safe position in event of power failure. Evaporators feature a timer for precise control processing. Chemical-resistant PTFE seals and patented pressure springs provide excellent sealing. Ejection mechanism ensures easy removal of evaporating flask. Select units feature remote function for PC control and data transmission. Specifications vary per model.