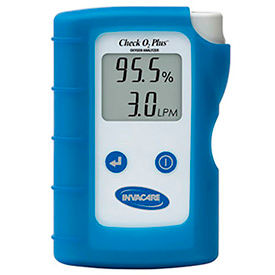 Oxygen Analyzers
Oxygen Analyzers Monitor Oxygen Concentration in Patient-Breathing Environments.
Oxygen Analyzers provides spot checking of oxygen levels delivered by medical oxygen delivery equipment and respiratory care systems. Designed with technicians in mind, these analyzers measure oxygen purity, flow rate, and outlet pressure without the need for in-field calibration. Available styles are
Check O2 Plus Oxygen Analyzer and O2 Analyzer w/3 digit LCD Display.
Invacare
Automatic shut-off extends battery life
Two AA batteries provide over 16,000 readings
Includes connection tube
Protective boot helps increase product integrity
Oxygen Measurement Range: 21% to -95.6%
Flow Measurement Range: 0-10 LPM
Pressure Measurement Range: 0.5-50 PSI
Drive Medical
3-digit LCD display
Ultra light weight and stability
Maintenance free
Extended battery life
Easy calibration
Auto off