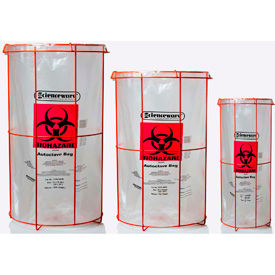 Biohazard Waste Bag Holders
Biohazard Sharp Object Safety Pouch and Stand Protects From Sharp And Contaminated Instruments Used For Laboratories, Clinics, Medical Offices And More.

Biohazard sharp object safety pouch is made of paperboard for dependability and stand is made of epoxy-coated steel wire for durability. Pouch flaps close and lock for safe disposal. Stand secures pouch in upright and open position for easy access. Biohazard labeled. Stand dimensions are 10 cm x 13 cm x 20 cm (4"W x 5-1/8"D x 8"H). Pouch dimensions are 14 cm x 33 cm (5-1/2"W x 13"H). Styles include Biohazard Sharp Object Safety Pouch and Poxygrid® Safety Pouch Stand. Colors are Orange or White. Package quantities are 1 or 200.