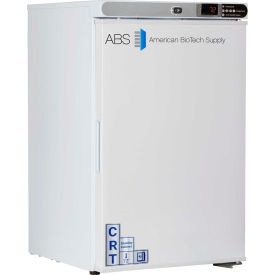 Controlled Room Temperature Cabinets
Controlled Room Temperature Cabinets Are Suitable For Medical and Laboratory Climate Based Storage.

Controlled room temperature cabinets contain and organize clinical or lab content in need of consistent temperature management. Some units feature a glass door for content visibility and a digital temperature display for real time monitoring. Built-In Undercounter, Freestanding Undercounter, and Compact cabinets are designed to fit in spaces below desks or counters. Most units require a designated clearance space on the sides and back for adequate ventilation. White cabinet color finish accommodates surrounding medical and laboratory environments. Adjusting temperature range is 68°F - 77°F (20°C - 25°C). Cubic feet range is 1.0 - 49. Dimensions and additional specifications vary per model.