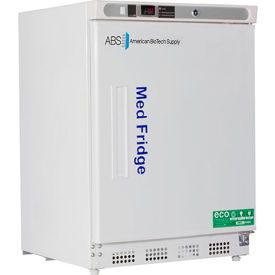 Pharmacy/Vaccine Undercounter & Countertop Refrigerators
Pharmacy/Vaccine Undercounter And Countertop Refrigerators Are Used For Applications Including Medical, Laboratory, And More.

Pharmacy/vaccine undercounter and countertop refrigerators are made of high quality materials for long lasting durability and dependability. Refrigerators provide optimal storage temperature environments, energy efficiency, and reliable performance for pharmacies, clinics, hospitals, and more. Digital LED microprocessor temperature controller provides ergonomic climate control for cost and energy efficiency. Audible and visual high and low alarms alert operator of temperature changes. Magnetic door gaskets, locks, and foam insulation ensure content stability and protection. Includes shelves, handle, and interior light. Features adjustable operating temperature ranges. Available styles include Built-In Undercounter, Compact, and Under Counter. Door options are Glass and Solid. Shelf options are 2, 3, and 4. Cabinets are Stainless Steel and White. UL listed. Dimensions vary per model.