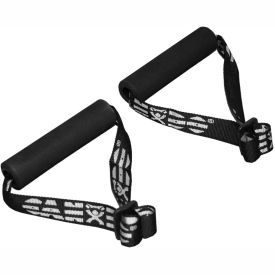 Exercise Handles, Anchors & Accessories
Exercise Handles, Anchors And Accessories Are Used For Applications Including Residential, Athletic, Physical Therapy, And More.

Exercise handles, anchors and accessories are made of high quality materials for long lasting durability and dependability. Accessories facilitate upper and lower body exercise for application versatility. Secure band or exercise tubing into extremity strap or handle loop for targeted exercise. Handles are foam covered with firm rigid interior for user grip and stability. Units accommodate ankles, thighs, wrists, and more. Available styles include Adjustable Anchor Attachment Strap, Adjustable Leg Attachment Strap, Band Klip™ Fastener, Band/Tubing Accessory Kit, Door Disc Anchor w/ Strap, Door Nub Anchor w/ Loop, Double Loop Stirrup, Exercise Band Handle w/ D-Ring, and more. Package quantities range from 1 to 50 Pairs. Colors are Black, Blue, Colors Vary, and Gray. Dimensions vary per model.