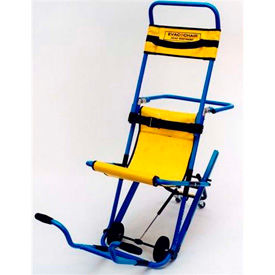 Evac+Chair® Evacuation Equipment
Evac+Chair® Evacuation Equipment Assists In Emergency Transport Of Injured Or Immobile Patients For Medical Aid.

Evac+Chair® Evacuation Equipment is constructed with aluminum, fabric, nylon, polycarbonate, and vinyl materials for long lasting durability and strength. Emergency Bracelets automatically become a hands free flashlight and activate an audio alarm and strobe light signal to alert responders to evacuee's location if they become immobilized. Stair Chairs feature front and rear lift handles for locations with difficult access and safe controlled descent or ascent of patients. Patient Transfer Seats are portable devices for lifting incapacitated persons where self-transfer is difficult. Rescue Mats and Sleds provide quick and easy one-person operation for transporting mobility-impaired individuals. Rescue Sheets feature cross straps sewn across the full width of sheet to provide extra security on a rough surface. Available weight capacities for chairs are 350, 400, 660, and 900 lbs. Dimensions vary per model.