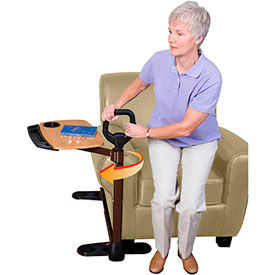 Stander™ Living Room Mobility Aids
Mobility Aids Provide Safety And Security To Elderly, Disabled, Handicapped And Physically Impaired Individuals As They Sit Or Stand.
Mobility Aids are made with high quality materials for long lasting durability and dependable use. Variety of living room mobility aids available to provide safe and secure assistance for sitting and standing from sofa or chair. Selection includes Assist-A-Tray, Couch Cane Swivel Tray, Couch Cane with Organizer Pouch, EZ Stand N Go, Lever Extender and Recliner Risers. Great Grips doorknob assists also available to provide pain free turning. Dimensions, weight capacities and package quantities vary by model.