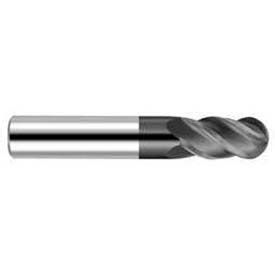 Ball End Mills - Single End, 4-6 Flute
Ball End Mills With Single End, 4-6 Flute Are Purposed For General Milling Operations.

Ball End Mills with Single End, 4-6 Flute are made of HSS and Solid Carbide materials for long lasting strength, durability and dependability. 3 flute design fallows for excellent slotting. Ideal for general milling operations and a cross between higher chip removal and finishing applications. Available in a wide selection of Bright, TiAIN, TiCN and TiN finishes in 1 to 9/16" flute lengths. Cutting diameters and additional specifications vary per model.