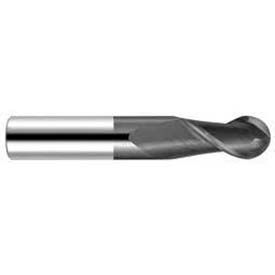 Ball End Mills - Single End, 2-3 Flute
Ball End Mills With Single End, 2-3 Flute Are Designed For Soft Metal Milling For Residential, Commercial And Industrial Applications.

Ball End Mills with Single End, 2-3 Flute are constructed of Cobalt, HSS, or Solid Carbide for long-lasting durability. They feature wide-spaced mills for chip ejection safety. All mills are used for high-speed milling operations. Carbide ball end mills run at 2 to 2.5 times faster than HSS and Cobalt mills. Sizes and dimensions vary per model. Imported or Made in USA mills. Available finishes are TiCN, TiN and Bright. Dimensions and additional specifications vary per model.