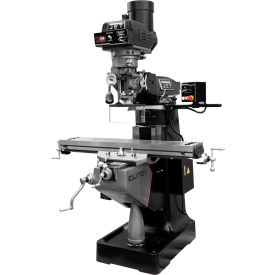 Vertical Milling Machines
Vertical Milling Machines Provide Precision Carving For Industrial Metalworking Applications.

Vertical milling machines are precision engineered for lasting durability and reliability. Milling provides precision carving of materials to create drill holes, add threads to bolts, and shape solid products by eliminating excess material from a rough block. Most models feature a one-shot lubrication system and heavy duty spindle brake. Select units include riser blocks and a tolerance testing sheet. Available with Single Phase and Three Phase Motor. Available with 5/8, 1-1/5, 1-1/2, 2,3, and 5 HP motors. Dimensions and additional specifications vary per model.