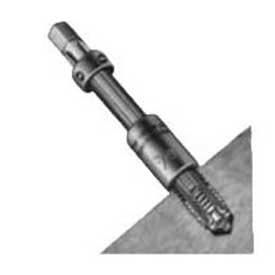 Tap Extractors for Pipe Taps
Tap Extractors For Pipe Taps Are Used For The Removal Of Broken Taps When Saving The Threads Is Required.

Tap Extractors For Pipe Taps are constructed with hardened steel fingers for long lasting durability. Walton Tap Extractors allow removal of broken taps without drilling, lasers, damaged threads, scrapped parts or repair inserts. Available with individual design or with extra fingers. Fingers fit in flutes of broken tap to back it out easily and safely. Effective method since 1908. Styles are Extra Fingers for Pipe Tap Extractors and Individual Pipe Tap Extractor. Number of flutes are 4 and 5. Thread sizes are 1/8 in., 3/8 in., 1/2 in., 3/4 in. and 1 in..