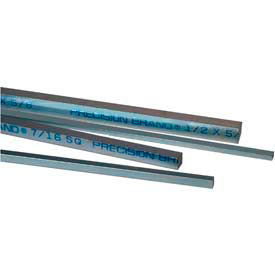 Steel Square Keystock
Steel Square Keystocks Are Used For New Machinery, General Maintenance And Shop Repairs.

Steel Square Keystocks are made from high quality steel material with a zinc plated finish for long lasting durability. Provides driving torque between shafts and pulleys, gears, sprockets and any applications where rotating power devices are used. Sizes are clearly marked on pieces for easy reference. Finishes are Plain, Zinc Plated and Zinc Clear Trivalent. Lengths are 36", 12", 6', 3' and 1'. Widths and thicknesses vary.