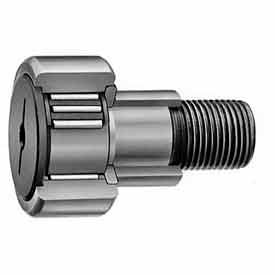 IKO Eccentric Cam Followers with Eccentric Collars
IKO Eccentric Cam Followers With Eccentric Collars Are Used For Use With Machine Tools, Industrial Robots, Electronic Devices And Office Automation Equipment.

IKO Eccentric Cam Followers With Eccentric Collars are made of carbon or stainless steel for long lasting durability. Features an eccentric collar design that makes outer ring positioning easier for superior performance. Thick-walled outer rings withstands heavy rolling or shock loads for increased reliability. Caged needle types have a small coefficient of friction and are suitable for high-speed rotation. Full complement needle types are suitable for low-speed rotation, rocking motion and places where heavy loads are applied. Crowned or cylindrical outer rings. An appropriate nut is supplied with stud. Includes prepackaged grease for ease of use. Available in Screwdriver Slot or Hex Hole. Needle constructions are Caged or Full Complement. Dimensions and thread sizes vary per model. Package quantity is 1.