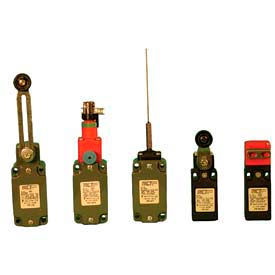 ACI Limit Switches And Safety Switches
ACI Limit Switches And Safety Switches Are Used For Commercial And Industrial Contractors, Electricians And More.

ACI Limit Switches and Safety Switches are solidly made for long lasting durability and reliability. Interchangeable with most other brands of switches. 4 position field adjustable, indexing actuator head. Reliable and accurate sensing. Furnished standard with 13.5mm to 1/2" NPT adaptor for conduit. Choose from a wide variety of styles of Rollers, Rods and Plungers to suit your specific requirements. Available inCast Aluminum or Fiberglass Reinforced Resin construction and Black, Gray, Black/Red and Gray/Red color.