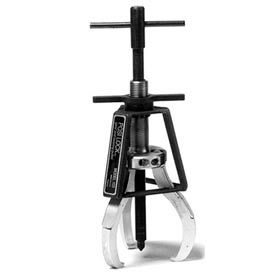 Posi-Lock™ Manual Pullers
The Posi-Lock™ Line Of Quality Manual Gear And Bearing Pullers Sets New Standards For Quickness, Ease And Convenience.

Posi-Lock™ has the best manual pullers on the market today for safety and quality. With Posi-Lock™, it's strictly a one-man operation. T-handle and Cage® control the jaws at all times so that the opening, closing, locking and aligning of the jaws are all done automatically by simply turning the T-handle. Recessed nut avoids mushrooming and disfiguration from impact. Slim tapered jaws allow easier gripping and better access to tight spots. These pullers grip on surfaces where normal pullers would slip off. Posi-Lock™ offers a complete line of 2 and 3 Jaw Pullers. 1 Year Limited Warranty.