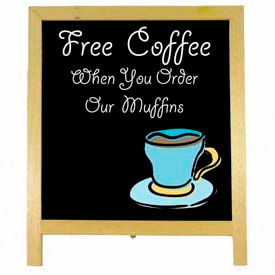 Easels & Board Stands
Signs Are Used For A Wide Variety Of Commercial Or Retail Promotional, Informational Or Directional Applications.

Signs are made of durable Oak Wood, Aluminum or Metal construction for long lasting use and dependability. Aarco, Quartet® and Safeco® brands offer a wide selection of types to choose from depending upon particular promotional, informational or directional signage need or application. A-Frame Sidewalk Boards are used for promotional uses and come in various finished wood or aluminum frames with white or black marker boards. Single Pedestal type signage is used for displaying restaurant menus, hotel conference information or other directional or informational messaging. Double Pedestal boards display pre-made artwork, menus, posters and signs. Available in wide range of 12 to 67-1/2 inch heights, 14 to 25-1/2 inch widths and Anodized Aluminum, Black, Brass, Cherry Stain, Chrome, Clear Lacquer, Gold, Silver and Wood Look Aluminum finishes.